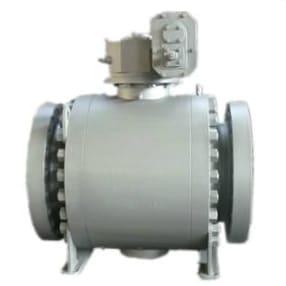 TMBV Ball valves are for pipeline, process, power, oil & gas and other flow control applications where quality, design, safety, and environmental protection are paramount.
Contact Us: export@reliavalve.com
Key Specifications / Features
TMBV Ball Valve, the trunnion ball valve  is a form of quarter-turn valve which uses a solid, perforated and fixed/supported ball to control flow through it. A trunnion mounted valve means that the ball is con-strained by bearings and is only allowed to rotate.
Features:
Grounding device are supplied for positive anti-static between ball/stem and body.
Bubble tight shutt off
Standards:
API 6D –  Specification for Pipeline Valves
API 598 – Valve Inspection and Test
API 607 –  Fire test for Soft Seated Quarter Turn Valves
ASME B16.5 – Steel Pipe Flanges and Flanged Fittings
ASME B16.10 –  Face to Face and End to End Dimensions of Ferrous Valves
ASME B16.34 – Steel Valves—Flanged and Butt Welding Ends
MR0175  – Sulfide Stress Cracking Resistant Metallic Materials for Oilfield Equipment
Products Related to TMBV Ball Valves