Double Disc Wafer Check Valve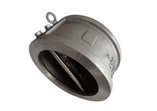 Short Description:
Double Disc Check Valve, Wafer Style, Carbon Steel, Stainless Steel or Alloy Steel.
Key Specifications / Features
Wafer style connection, or wafer lug
HIGH TORSION SPRING: For potentially severe applications, a high torsion spring ensures the valve closes as quickly as possible.
RETAINERLESS BODY DESIGN optional: The wafer check valve's body is essentially a short, heavy wall cylinder with no holes through the body wall. No retainers will ensure there is no possibility of leakage to the outside.
Products Related to Double Disc Wafer Check Valve