Corrosion Resistant Gate Valves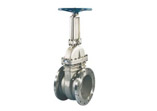 Short Description:
Corrosion Resistant, Gate Valves, Bolted Bonnet Flanged Ends, ASME B16.34. Wall thickness to ASME B16.34.
Key Specifications / Features
Optional integral Stellited seat face available for longer service life.
Wedge flexible gate, which is ground and lapped to a mirror finish and tightly guided to prevent dragging and seat damage.
Non-rising stem with precision threads and burnished finish.
Flexible Wedge Disc Gate Valve
Bolted Bonnet,OS & Y, Non Rrising Handwheel,Flexible Wedge Disc
Welded Seat, End Design: Flanged Raised Face
Bolted Bonnet,OS & Y
Non Rrising Handwheel
Flexible Wedge Disc
Welded Seat
End Design: Flanged Raised Face
Class Rating: ASME Class 150
Body Material: Carbon Steel ASTM A216 WCB
Stem Material: Stainless Steel ANSI 316
Disc Material: Stainless Steel ANSI 316
Seat Material: Stainless Steel ANSI 316
Manufacturing Standard: API 600
Products Related to Corrosion Resistant Gate Valves