Cast Stainless Steel Globe Valve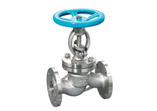 Stainless Steel Globe Valve, A351 CF8, CF8M, CF3, CF3M, Flanged Ends, Full Bore.
Wall thickness to ASME B16.34.
Contact Us: export@reliavalve.com
Key Specifications / Features
Optional integral Stellited seat face available for longer service life.
Extended bonnets with sufficient gas column length, usually specified by customer, are supplied for all valves to keep stem packing at sufficient distance away from the cold fluid to remain functional.
Outside screw and yoke (OS & Y)
Integral backseat
Products Related to Cast Stainless Steel Globe Valve