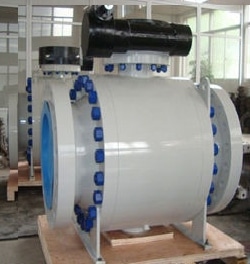 API 6D ball valves are designed for reliability and high-performance, and are an excellent choice for shutoff applications in the power, oil & gas and petrochemical industries. API 6D floating ball valve and trunnion ball valves are available. The design, manufacture, and testing fully meet the API 6D standard. specifications.
Contact Us: sales@reliavalve.com
Key Specifications / Features
API 6D: Specification for Pipeline Valves,  is the stadard specifies requirements and gives recommendations for the design, manufacturing, testing and documentation of ball, check, gate and plug valves for application in pipeline systems, application for Petroleum and Natural Gas Industries-Pipeline Transportation Systems-Pipeline.
API 6D ball valves are designed manufactured to provide maximum service life and dependability. All ball valves are full ported and meet the design requirements of American Petroleum Institute standard API 6D. API 6D ball valves are available in a complete range of body/bonnet materials and trims. API 6D ball are available for the pressure ratings only: Class 150, Class 300, Class 400, Class 600, Class 900, Class 1500, and Class 2500.
API 6D Ball Valves are available as below:
• Floating or trunnion mounted ball design.
• Buttweld and flange ends.
• Manual and actuated operation.
• Blowout proof stem.
• Fire resistant construction.
• Anti-static design.
Specifications:
Design and Manufacture
API 6D
Wall Thickness
API 6D
Face-to-Face Dimension
API 6D
Flange End Dimension
ANSI/ASME B16.5 (1" to 24")
ANSI/ASME B16.47 (26" & up)
Butt-Weld End Dimension
ANSI/ASME B16.25
Inspection & Testing
API 6D/API 598
Fire Safe Design
API 607/BS 6755
Material
Nace MR 0175
API 6D Ball Valve Face to Face Dimensions
Class 150-600 Ball Valve Dimensions
Valve Size
Face to Face and End to End Dimentisons(Full Bore Ball Valve and Reduced Bore Ball Valve)
NPS (Inch)
DN (mm)
RTJ Ends
NPS (Inch)
DN (mm)
Class150
Class 300
Class 400
Class 600
2"
50
191
232
295
2-1/2"
65
203
257
333
3"
80
216
298
359
4"
100
241
321
410
435
6"
150
406
419
498
562
8"
200
470
518
600
664
10"
250
546
584
676
791
12"
300
622
664
765
841
14"
350
699
778
829
892
16"
400
854
905
994
854
18"
450
930
981
1095
930
20"
500
1010
1060
1200
1010
22"
550
1114
1153
1305
1114
24"
600
1165
1241
1407
1165
26"
650
1270
1321
1461
1270
28"
700
1372
1410
1562
1372
30"
750
1422
1537
1664
1422
32"
800
1553
1667
1794
1553
34"
850
1654
1794
1946
1654
36"
900
1756
1895
2099
1756
Class 900-2500 Ball Valve Dimensions
Valve Size
Face to Face and End to End Dimentisons

(Full Bore and Reduced Bore)

NPS (Inch)
DN (mm)
RTJ Ends
NPS (Inch)
DN (mm)
Class 900
Class1500
Class 2500
2"
50
371
371
454
2-1/2"
65
422
422
514
3"
80
384
473
584
4"
100
460
549
683
6"
150
613
711
927
8"
200
740
841
1038
10"
250
841
1000
1292
12"
300
968
1146
1445
14"
350
1038
1276
–
16"
400
1140
1407
–
18"
450
1232
1559
–
20"
500
1334
1686
–
22"
550
–
–
–
24"
600
1568
1972
–
26"
650
1673
–
–
28"
700
–
–
–
30"
750
1902
–
–
32"
800
–
–
–
34"
850
–
–
–
36"
900
2315
–
–
Products Related to API 6D Ball Valves