High Temperature Metal Seated Ball Valves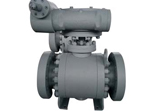 Trunnion Mounted Ball Valve, Metal Seated, High Temperature, Split Body, Bi-directional, CS A105, API Trim 12, API 6D.
Contact Us: sales@reliavalve.com
Key Specifications / Features
Metal-seated trunnion-mounted ball valve is ideal for heavy oil, high-temperature steam, and abrasive slurry applications.
Relia adopts metal to metal seal as auxiliary structure to prevent medium leakage in case of fire as shown in figures. The fire safe design confirms to the requirements of API607, API 6FA and BS 6755
Extended bonnet available for high-temperature service
Bi-directional sealing to Class V (Class VI available)
NACE MR0175/ISO 15156 compliance
Title: High Temperature Trunnion Mounted Ball Valve
Type: Trunnion Mounted Ball Valves
Structure: Split Body, Bi-directional
Body: CS A105
Trim: API Trim 12
Seat: Metal Seat, WC Coated
Design: API 6D, Nace MR0175
Size: 12 Inch
Class: ANSI Class 1500
Ends: Flanged, Ring Type Joint
Bore: Full Bore
Operated: Gear Box
Fluid: Hydrocarbon, Solid etc.
Feature: Zero leakage
Products Related to High Temperature Metal Seated Ball Valves