Carbon Steel Piston Check Valve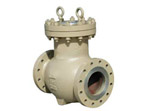 Short Description:
Piston Check Valve, Carbon Steel, Stainless Steel or Alloy Steel, Flanged Ends.
Key Specifications / Features
Piston check valves are similar in configuration to globe valves, except that the disc or plug is automatically operated. The main advantage of the piston (lift) check valve lies in its simplicity, and as the cone is the only moving part, the valve is robust and requires little maintenance.
Full port or stand port
Bolted bonnet or pressure seal with spiral-wound gasket
Long life service
Metal to metal seat
Quick opening of piston
Products Related to Carbon Steel Piston Check Valve