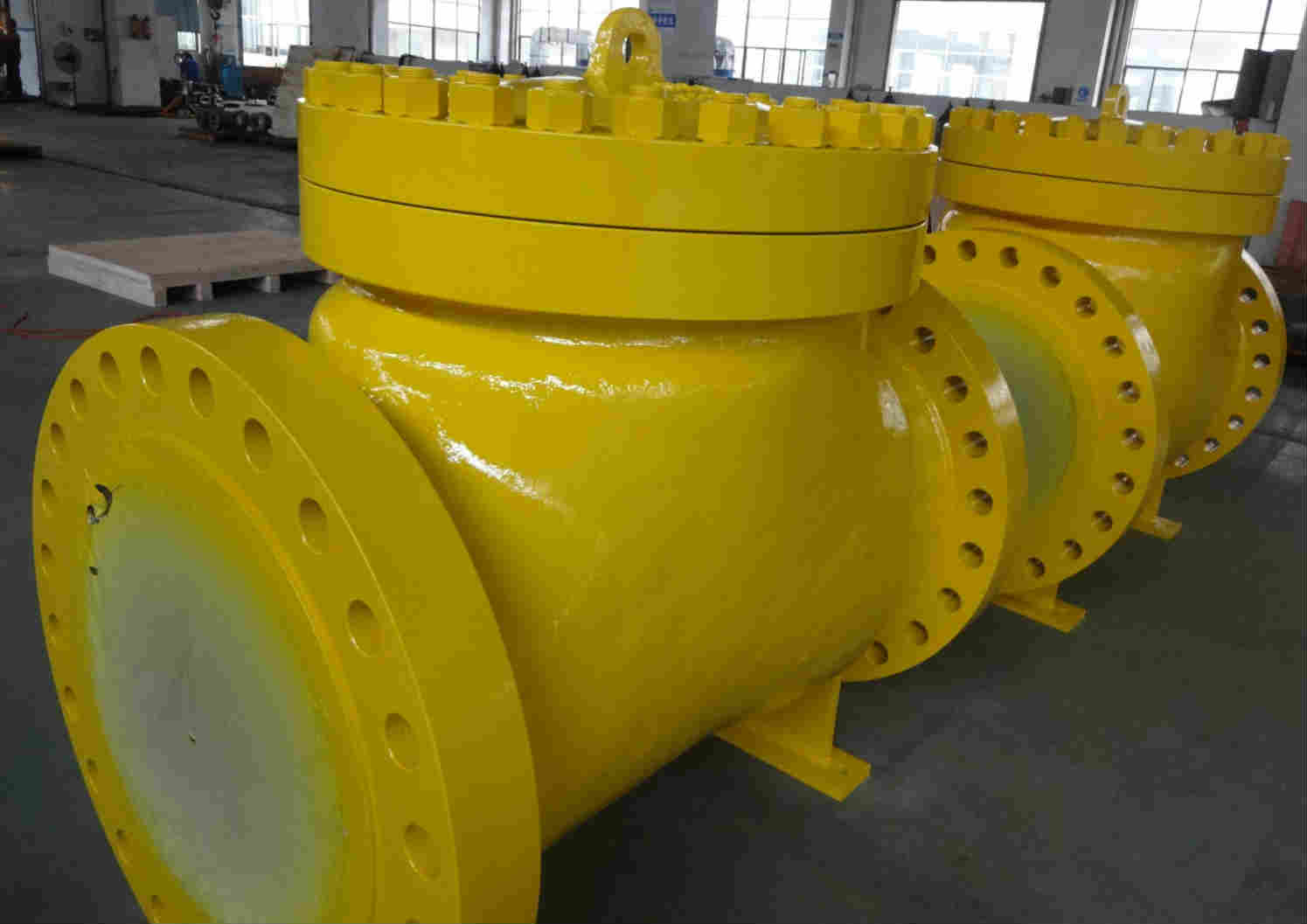 Swing Check Valves – API 6D, Full Port, ​Sizes: 2″ – 48″ ​Classes: 150 – 2500. API 6D Check Valves are made of fine raw material, 18 months gurantee.
Contact Us: export@reliavalve.com
Key Specifications / Features
API 6D Swing Check valves  are Full Port Swing Check Valves,  they are primarily used in oil and gas pipelines to prevent backflow. Swing Check valves are primarily used in oil and gas pipelines to prevent backflow.
In addition, a swing check valve is easy to troubleshoot and easy to maintain with convenient top-entry access to all valve internals.
In its standard configuration, swing check valves have a bolted cover and a free-swinging clapper. The clapper is the closing member that responds to the prevailing flow conditions.
Swing check valves are normally recommended for water and wastewater systems applications because of the simple construction, low pressure drop across the valve, and field serviceability. Swing check valves are available in metal-to-metal seat.
Relia Swing Check Valves with its rugged construction and full flow area is the most specified check valve for municipal/industrial water and wastewater applications. Its smooth, unrestricted flow design can provide significant savings in pumping costs over other check valves with reduced ports.
Design Feature
Relia swing check valve prevents backflow in a fraction of a second. The clapper is the only moving part, which swings to allow flow. At the moment flow ceases, the clapper returns to the closed position, creating an instant barrier to reverse flow.
All swing check valves are full-bore, through-conduit and will allow the passage of various pipeline inspection gauges and spheres. The full-bore design ensures a low pressure drop across the valve and less turbulence than with reduced-bore valves or alternative designs of swing check valves.
The valve ends are available to meet any pipeline requirement. The valves are supplied with raised-face, ring-type joint flanges or weld ends. Raised-face and ring-type joint flanges comply with the requirements of ASME B16.5 and ASME B16.47, as appropriate.
Flanges are backfaced to provide a smooth bolting surface to allow even bolt loading during installation in the pipeline. Weld-end valves comply with ASME B16.25 unless otherwise agreed upon with the customer. Hub ends and other specialty end connections are available upon request.
Application
• Prevent backflow in pipelines
• Prevent leakage to the environment in the event of a pipeline rupture
• Protect the integrity of upstream equipment
Design Standards
• API 6D, 24th Edition
• ANSI B16.34
• ISO 14723
• NACE MR0175
• ISO 15156
Products Related to API 6D Swing Check Valve