API 602 Forged Steel Valve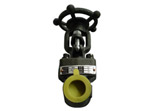 Gate Valve, Forged Steel, API 602, Full port and conventional port optional,Bolted bonnet; welded bonnet; or pressure seal bonnet
Contact Us: export@reliavalve.com
Key Specifications / Features
Full port and conventional port optional
Outside screw and yoke (OS & Y)
Solid wedge (disc)
Renewable seat ring
Non-rising handwheel
Bolted bonnet; welded bonnet; or pressure seal bonnet
Integral backseat
Two piece self aligning packing gland
Standard
Design – API 602/ASME B16.34
Face to face dimension – ASME B 16.10
Socket welding end – ASME B 16.11
Threaded end – ASME B B 1.20.1
Butt welding end – ASME B 16.25
Flange end – ASME B 16.5
Inspection – API 598
Material List of Forged Steel Gate Valves
| | | | | |
| --- | --- | --- | --- | --- |
| No. | Part name | Carbon Steel | Stainless Steel | Alloy Steel |
| 1 | Body | A105 | A182 F304 | A182 F11/F22 |
| 2 | Seat | A182F6a | A182 F304 | A182 F11/F22 |
| 3 | Wedge | A182F6a | A182 F304 | A182 F6a |
| 4 | Stem | A276-410 | A276-304 | A276-410 |
| 5 | Gasket | Graphite+304 | Graphite+304 | Graphite+304 |
| 6 | Packing | Graphite | Graphite | Graphite |
| 7 | Gland | A105 | A182 F304 | A182 F11/F22 |
| 8 | Stem nut | A193 B7 | A193 B8 | A193 B16 |
| 9 | Handwheel | A216-WCB | A351 CF8 | A216-WCB |
| 10 | Sealing ring | Graphite | Graphite | Graphite |
| 11 | Yoke | A193 B7 | A351 CF8 | A276-410 |
| 12 | Bonnet | A216-WCB | A193 B8 | A193 B7 |
| 13 | Bolt | A276-410 | A276-304 | A216-WCB |
| 14 | Eye blot | A197 | A197 | A197 |
| 15 | Stem Bushing | A276-410 | A276-410 | A276-410 |
Remarks:
Select different materials for different working temperature and media.
Trim materials and recommended service coverage referred to Appendix.
Connecting Form Between Valve Body and Bonnet
The connecting forms between valve body and bonnet of our forged steel valve include three kinds: bolt connection bonnet, welded bonnet and pressure seal bonnet (Shown as the following figure). The choices of structure form are shown as in the table. The specific forms chosen by customers should be given for the order.

Pressure Rating
Connection Forms Between Body & Bonnet
Mpa
Class
Bolted Bonnet
Welded Bonnet
Pressure Seal
1.6~10.0
150~600
Yes
Yes
14.0
800
Yes
Yes
16.0
900
Yes
Yes
Yes
26.0
1500
Yes
Yes
Yes
42.0
2500
Yes
Yes
Range of API 602 Forged Steel Gate Valves
Body Material – Carbon Steel/Stainless Steel/Alloy Steel
(Forged Steel, such as A105N, LF2, F304, F316, F11, F51, F91, F347 etc.)
Trim Material – API 600 Trim number 1 to 17
End Connection – Flange/SW/Thread/BW
Pressrue Rating – Class 150, 300, 600, 800, 900, 1500, 2500
Size – 1/2″-2″
Products Related to API 602 Forged Steel Valve