Trunnion Mounted Ball Valve, A350 LF2, SS Trim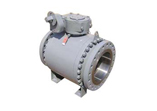 Trunnion Mounted Ball Valves, Carbon Steel, A350 LF2, SS Trim, API 6D, API 607, Split Body.
Contact Us: sales@reliavalve.com
Key Specifications / Features
The main function of a Ball Valve is sealing of the flow. A Ball Valve should not be used for throttling (semi open / closed position). This will cause damage the ball due to erosion on the ball it selves.
A Ball Valve body could be assembled from typical two or three main parts sealed and bolted together, or alternatively welded together to increase the safety of the Ball Valve, especially used in the pipeline industry. There are a lot of different ball valve designs; however the basic principle is the same for all of them.
Title: A350 LF2 Carbon Steel Trunnion Mounted Ball Valve
Type: Trunnion Mounted Ball Valve
Body: A350 LF2 Carbon Steel
Trim: SS Trim
Ends: Flanged RF, RTJ, ANSI
Port: Full Bore
Size: 14 Inch (DN350)
Pressure: Class 150, ANSI
Standard: API 6D, API 607
Feature: Split Body
Products Related to Trunnion Mounted Ball Valve, A350 LF2, SS Trim