Trunnion Ball Valve, Reduced Bore, API Standard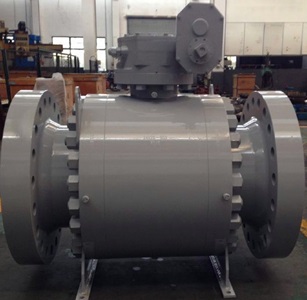 Trunnion Ball Valves, 900#, 16 x 14inch, Redubed Bore, Body: A350 LF2, Ball: A 182 Grade F316/ SS316, Seat Insert: R-PTFE/PEEK/FDA/NYLON.
Contact Us: sales@reliavalve.com
Key Specifications / Features
The trunnion ball valve can be provided with Single Piston Effect Seats, for cavity relief to the pipeline or with Double Piston Effect Seats, for double barrier sealing and Double Block and Bleed capability. Available in single part design with cast or forged bodies.
Size(Inches): 16 x 14inch
Pressure Rating: 900#
Ball: A 182 Grade F316/ SS316
Seat Insert: R-PTFE/PEEK/FDA/NYLON
Seal/ O-ring: Viton
Spring: lnconel X-750
Stem Packing: Flexible Graphite
Fire Resistance Gasket: Flexible Graphite
Bolts/Nuts: ASTM A 193-B7/ A 194-2H
Operating Pressure: 109 Bar
Operating Temperature (max/min): 0/80 Deg. C
Medium: Hydrocarbon gas
Testing: API 6D, API 598, High Closure Test at 109 bar
Weight: 2102Kg
Torque Value: 11500N.m
Top Flange: ISO 5211 F30
Products Related to Trunnion Ball Valve, Reduced Bore, API Standard