Trunnion Ball Valve, F304, Nace MR0175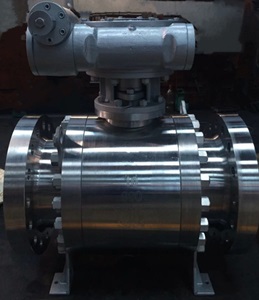 10 Inch, Full Port Ball Valves, Trunnion, 900#, RJ, Body: Low Temperature Carbon Steel To A350-LF2 Cl 1, Stem: SS 4140, Service: Sour.
Contact Us: sales@reliavalve.com
Key Specifications / Features
For every Relia trunnion ball valve, a multiple sealing stem includes triple sealing with two O-rings and a fire-safe gasket. This arrangement ensures consistent compliance with stringent fugitive emission testing requirements. The blowout-proof stem provides positive stem retention.
Size(In.): 10 Inch
Pressure Designation: Class 900
Bore Type: Full Port
Body: Low Temperature Carbon Steel To A350-LF2 Cl 1
Trim: Low Temperature Carbon Steel
Stem: SS4140
Service Requirement: NACE MR-01-75
Service: Sour
Temperature Range: 0 deg C TO PLUS 120 deg C
Products Related to Trunnion Ball Valve, F304, Nace MR0175