Trunnion Ball Valve, 300#, Flanged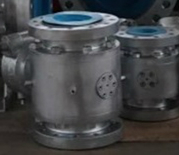 300# Trunnion Ball Valves, 8 Inch, Long Life, Flanged, Forged Steel ( LF2), Seat Insert: Metal
Contact Us: sales@reliavalve.com
Key Specifications / Features
The shell thickness of trunnion ball valve calculated for body & end connector are compared with the standard thickness & checked physically by measuring instrument. Stem are designed in such a way to withstand Break away Torque. In the event of seat or seal damage due to contamination,an emergency seal can be formed using seat sealant injection.
Size: 8 Inch
Pressure Rating: 300#
Design: Long Life, Flanged, Trunnion Solid Ball
Body: Forged Steel ( LF2)
Ball: Metal Ball
Seat Insert: Metal
Bonnets, Stems, Stem Extensions, Etc. Shall Be Designed To Withstand The Maximum Anticipated Torque That Might Be Applied During The Operation Of The Valve.
Minimum Thickness Of The Valve Body Shall As A Rule Be According To ASME B16.34 For Standard Class And Shall Meet The Requirements Of Valves Specifications Regarding To Corrosion Allowance.
Products Related to Trunnion Ball Valve, 300#, Flanged