Trunnion Ball Valve, 30 Inch, WCB, 3 Piece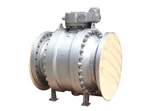 30 Inch Ball Valve Manufacturers in China, Trunnion Ball Valve, 30 Inch, Class 150, 3 Piece, A216 WCB, Full Bore.
Contact Us: sales@reliavalve.com
Key Specifications / Features
Trunnion ball design required a lower operating torque. Hence, reduces the size of the actuator and overall costs of the valve. This cost difference becomes an important factor when the pressure class and valve size increases. Relia trunnion ball valve can be used in different types of fluid services as on-off stop valve that provides bubble-tight shutoff.
Name: 30 Inch Ball Valve
Type: Trunnion Ball Valves
Design: API 6D/ASME B16.34
Feature: Full Bore
Structure: 3 Piece
Body: ASTM A216 WCB
Trim: SS 316 Trim
Stem: 17-4PH
Ball: A182 F316
Seat: SEAT:PTFE (VIRGIN/REINFORCED)
Size: 30 Inch (DN750)
Rating: Class 150(PN20)
Ends: RF Stud Flange End
Products Related to Trunnion Ball Valve, 30 Inch, WCB, 3 Piece