Metal Seated Ball Valve, Zero Leakage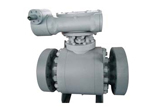 Metal Seated Ball Valves, Trunnion Mounted, Zero Leakage, ASTM A352 LF2 Body, A182 F51+Stellite Trim, ANSI Class 1500#.
Contact Us: sales@reliavalve.com
Key Specifications / Features
Metal-seated valves that provide superior operation at high temperatures as well as providing abrasion resistance in demanding applications. The seat is coated and lapped to match ball, creating a positive seal. Coating options: Chrome Carbide, Tungsten Carbide, WC, Stellite etc. Metal Seated Ball Valves are ideal for the refining, power generation, and oil and gas industries.
Type: Metal Seated Ball Valves, Trunnion Mounted
Test Result: Zero Leakage, Bubble Tight
Body: Carbon Steel, ASTM A352 LF2
Ball: A182 F51 (Duplex 2205)+Stellite
Seat: A182 F51 (Duplex 2205)+Stellite
Class: ANSI Class 1500#
Size: 10 Inch, Full Bore
Ends: RTJ
Products Related to Metal Seated Ball Valve, Zero Leakage