Full Port Ball Valve, Flanged, Carbon Steel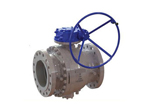 Full Port Ball Valves, 8 Inch, Class 150#, Carbon Steel A216 WCB, Pressure Equalising Seat.
Contact Us: sales@reliavalve.com
Key Specifications / Features
A full-port valve specification refers to the bore of the valve having no restriction in the piping. So, if a full-port ball valve is fully open in a piping.
Full pipeline ball valves provide a solution for throttling and severe service applications in gas transmission lines, gas distribution, or liquid pipelines.
Type: Full Port Ball Valve
Size: 8 Inch
Rating: Class 150#
Ends: RFEnds
Mat.: Carbon Steel
Body: A216 WCB
Trim: Forged Carbon Steel
Seat: PTFE
Feature: Pressure Equalising Seat
Products Related to Full Port Ball Valve, Flanged, Carbon Steel