Forged Steel Ball Valve, Full Bore, API 6D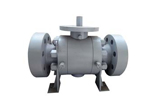 1500LB Trunnion Ball Valve, ASME Class 1500, 6 Inch, Full Bore, API 6D, Renewable Seat, Long Life.
Contact Us: sales@reliavalve.com
Key Specifications / Features
Forged steel is an alloy of carbon and iron that is compressed under extreme pressure to make a very hard and strong substance. Forged steel ball valves are usually used for high pressure rating or critical project.
Name: 1500LB Trunnion Ball Valve
Type: Trunnion Mounted Ball
Class: ASME Class 1500
Size: 6 Inch
Bore: Full Bore
Design: API 6D
Feature: Renewable Seat
Other: Long Life
Products Related to Forged Steel Ball Valve, Full Bore, API 6D