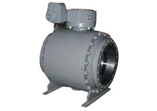 Trunnion Mounted Ball Valves, A350 LF2, Carbon Steel, Cryogenic, Flanged, API 6D, ANSI, Full Port. Balls valves are usually only recommended for use in the fully open or fully closed position.
Contact Us: sales@reliavalve.com
Key Specifications / Features
Ball valves are not suited to regulate flow by being kept partially open because ball valves make use of a ring-shaped soft valve seat.
When used in the partially open position, pressure is applied to only a portion of the valve seat, which can cause it to deform. If the valve seat deforms, its sealing properties are impaired and it will leak as a result.
Title: Carbon Steel LF2 Trunnion Mounted Ball Valve
Type: Trunnion Mounted Ball Valve
Body: Carbon Steel LF2
Trim: SS 304, SS 316
Ends: Flanged
Port: Full Port
Size: 18 Inch (DN450)
Pressure: Class 150, ANSI
Standard: API 6D, ANSI
Feature: Cryogenic
Products Related to Flanged Ball Valve, LF2