F304 Trunnion Ball Valve, BW Ends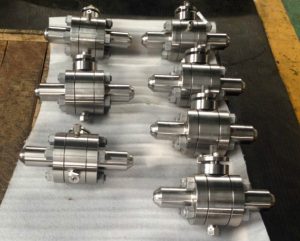 Trunnion Ball Valve, A182 F304, BW Ends, anti-corrosion application, Tested To API 598, Fire Safe Design.
Contact Us: sales@reliavalve.com
Key Specifications / Features
Trunnion Ball valves use spring activated piston effect seats to achieve a reliable seal in both low and high pressure applications. These valves can be provided with Single Piston Effect Seats, for cavity relief to the pipeline or with Double Piston Effect Seats, for double barrier sealing and Double Block and Bleed capability.
Body: ASTM A182 F304
Ball: ASTM A182 F304
Stem: ASTM A182 F304
Bolt/Nut: ASTM A320 B8/8
Spring: Innconel 625
Seat Insert: Nylon,RPTFE,PEEK,PPL
F304 trunnion ball valves are use for anti-corrosion application. F304 is an Austenitic Cr-Ni stainless steel. This is the most versatile and widely used of all the stainless steels and is commonly referred to as 18/8 which is derived from the nominal chemical composition of 18% Cr and 8% Ni.
Products Related to F304 Trunnion Ball Valve, BW Ends