Cast Steel Ball Valve, WCB, Flanged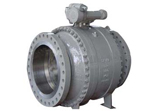 Cast Steel Ball Valve, Trunnion Mounted, CS ASTM A216 WCB, Full Bore, Flanged RF, API 6D, 16 Inch, ASME Class 600.
Contact Us: sales@reliavalve.com
Key Specifications / Features
Cast steel is a metal that has undergone the process of casting. Cast steel usually refers to normal carbon steel and alloy steel. Which is a steel casting with carbon content lower than 2%. Cast steel body ball valves are usually used for Class 150 & 300.
Title: Cast Steel Trunnion Mounted Ball Valve
Type: Trunnion Mounted Ball Valve
Structure: Split Body, 3 Piece
Body: CS ASTM A216 WCB
Bore: Full Bore (FB)
Ends: Flanged RF
Design: API 6D
Size: 16 Inch
Rating: ASME Class 600
Products Related to Cast Steel Ball Valve, WCB, Flanged