Cast Steel Ball Valve, 3 Piece, RF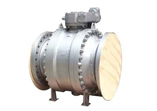 Trunnion Ball Valves, Cast Steel, 3 Piece, Full Bore, Large Size, RF, 24 Inch, DN600, ANSI Class 300, API 6D, ASME B16.34, In Stock, Factory Price, Cheap.
Contact Us: sales@reliavalve.com
Key Specifications / Features
A well designed 3-piece valve can be just as effective as a 2-piece or 1-piece. Generally, the body leakage rate will be irrelevant when compared to the stem leakage rate. Focus on the application and end cap configuration. If it is a flanged valve, look for 2-piece valves, If it is threaded or welded ends, look for a 3-piece valve.
Title: Cast Steel Trunnion Ball Valve
Body: Cast Steel
Structure: 3 Piece
Trim: Stainless Steel
Seat: Nylon, Devlon
Ends: RF
Bore: Full Port (Full Opening)
Size: 24 Inch(DN600), Large Size
Pressure: ANSI Class 300
Standard: API 6D, ASME B16.34
Products Related to Cast Steel Ball Valve, 3 Piece, RF