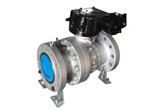 Ball Valves, A352 LC3 or ASTM A350 LF3, Flanged, Full Bore, Three Piece, Nylon Seat. Serving Oil, Gas etc. Ball Valve Manufacturers in China.
Contact Us: sales@reliavalve.com
Key Specifications / Features
The ball performs the same function as the disk in the globe valve. When the valve handle is turned to open the valve, the ball rotates to a point where the hole through the ball is in line with the valve body inlet and outlet.
When the valve is shut, the ball is rotated so that the hole is perpendicular to the flow openings of the valve body and the flow is stopped.
Name: A352 LC3 Ball Valve
Ball Type: Trunnion Ball Valve
Construction: Three pieces Body
Connection Ends: Flanged RTJ
Body: ASTM A352 LC3 or ASTM A350 LF3
Seat Insert: Nylon
Operation: Gear BoxThe ball performs the same function as the disk in the globe valve. When the valve handle is turned to open the valve, the ball rotates to a point where the hole through the ball is in line with the valve body inlet and outlet.
When the valve is shut, the ball is rotated so that the hole is perpendicular to the flow openings of the valve body and the flow is stopped.
Name: A352 LC3 Ball Valve
Ball Type: Trunnion Ball Valve
Construction: Three pieces Body
Connection Ends: Flanged RTJ
Body: ASTM A352 LC3 or ASTM A350 LF3
Seat Insert: Nylon
Operation: Gear Box
Class: 900
Size: 12 Inch
Ends: Flanged
Bore: Full Bore
Class: 900
Size: 12 Inch
Ends: Flanged
Bore: Full Bore
Products Related to ASTM A352 LC3 Ball Valve