API 6D Forged Trunnion Ball Valve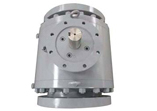 Trunnion Mounted Ball Valve, API 6D, 2 Piece, 3 Piece, Flanged, A105, A105N, LF2, F304, F316, API 607.
Contact Us: sales@reliavalve.com
Key Specifications / Features
An advantage of trunnion ball Valves over floating ball is the lower operating torque of the ball.  This is particularly advantageous when the ball valve is actuated because it reduce the size of the actuator and hence the overall costs of the valve actuation package.
Title: API 6D Trunnion Mounted Ball Valve
Type: Trunnion Mounted Ball Valve
Body: A105, A105N, LF2, F304, F316
Trim: A105, A105N, LF2+ENP, SS
Ends: Flanged, ANSI
Port: Full Port
Size: 12 Inch (DN250)
Pressure: ANSI 150 (1.6 MPa)
Standard: API 6D, API 607
Feature: On off
Products Related to API 6D Forged Trunnion Ball Valve