API 6D Cast Steel Trunnion Ball Valve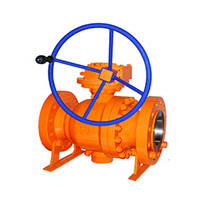 Short Description:
Trunnion Ball Valve, API 6D, Cast Steel, Forged Steel, Full Bore, 4 Inch (DN100), 150LB, API 6D, Pressure Relieving Seat
Key Specifications / Features
On a trunnion Ball Valve the ball has support on both top and bottom, and the ball will not move under pressure. A trunnion Ball Valve has springs pushing the seats against the ball both up and downstream.
The trunnion ball offers lower operating torque of the ball in comparison to floating ball. This helps in reducing the complete cost of value actuation package since, it reduce the size of the actuator when the ball valve is actuated.
Title: API 6D Trunnion Ball Valve
Type: Trunnion Ball Valve
Body: Cast Steel, Forged Steel
Trim: 17-4PH Trim, Nylon Seat
Ends: 150 lb Flanged
Port: Full Bore
Size: 4 Inch (DN100)
Pressure: 150 lb
Standard: API 6D
Feature: Pressure Relieving Seat
Products Related to API 6D Cast Steel Trunnion Ball Valve