API 6D Ball Valve, 150 LB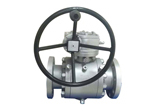 Trunnion Ball Valve, API 6D, Cast Steel, Forged Steel, Full Bore, 4 Inch (DN100), 150LB, API 6D, Pressure Relieving Seat.
Contact Us: sales@reliavalve.com
Key Specifications / Features
A ball valve is a rotational motion valve that uses a ball-shaped disk to stop or start fluid flow. Ball valves are durable, performing well after many cycles, and reliable, closing securely even after long periods of disuse. These qualities make them an excellent choice for shutoff and control applications.
Title: API 6D Trunnion Ball Valve
Type: Trunnion Ball Valve
Body: Cast Steel, Forged Steel
Trim: 17-4PH Trim, Nylon Seat
Ends: 150 lb Flanged
Port: Full Bore
Size: 4 Inch (DN100)
Pressure: 150 lb
Standard: API 6D
Feature: Pressure Relieving Seat
Products Related to API 6D Ball Valve, 150 LB