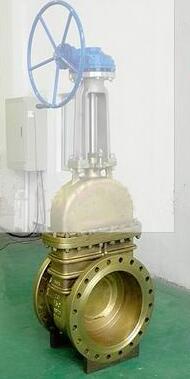 AL Bronze Gate Valve are primarily used for stop valves fully opened or fully closed, AL Bronze Gate Valve are good corrosion, suitable for sea water etc..
Contact Us: sales@reliavalve.com
Key Specifications / Features
Al Bronze Gate Valve, C95800 is the best of all bronzes. C95800 is Copper Alloy UNS number in ASTM A148 and ASMT B805 for casting purpose. This material is mostly suitable for large size castings, particularly high in strength, and good performances in corrosion resistance and abrasion resistance.
Title: Al Bronze Gate Valve
Body: ASTM B148 C95800, AB2C, C70600, HTB1, B62, C95500, C83600
Others: C70600, C86500, C87600, C95400 etc.
Trim: Aluminium Bronze, Monel
Material, Stem : NI-AL-BRONZE
Face to Face : ASME B16.10
Ends: Flanged FF, RF
Design: API 600
Bore Type: Straight
Type of Gate : Flexible Wedge
Type of Stem : Outside Screw & Yoke
Service, Fluid : Sea Water
Products Related to AL Bronze Gate Valve