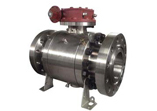 A694 F60 Ball Valve, A694 F60 is high-yield carbon steel suitable for use with high-strength transmission-service pipe. Yiel Strength, min: 415 MPa,Tensile Strength,min: 515 MPa, Elongation in 2 in. or 50 mm, min %: 20.
Contact Us: sales@reliavalve.com
Key Specifications / Features
A694 F60 is forged steel covered by ASTM A694. The Standard Specification for Carbon and Alloy Steel Forgings for Pipe Flanges, Fittings, Valves, and Parts for High-Pressure Transmission Service.
Title: A694 F60 Ball Valve
Body: A694 F60
Bonnet: A694 F60
Trim: A694 F60
Ends: RTJ, RF, BW
Port: Full Port
Standard: API 6D, ASME B16.34
Products Related to A694 F60 Ball Valve