A216 WCB Ball Valve, Class 600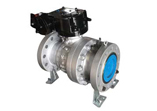 A216 WCB Ball Valves, ASME/ANSI 4140+ENP Trim, Devlon Seat, 2 Piece, Class 600, 6 Inch, Piggable, Full Bore.
Contact Us: sales@reliavalve.com
Key Specifications / Features
WCB is carbon steel castings for valves, flanges, fittings, or other pressure-containing parts for high-temperature service and of quality suitable for assembly with other castings or wrought-steel parts by fusion welding. The working temperature for WCB is -29~425°C.
Title: A216 WCB Trunnion Ball Valve
Type: Trunnion Ball Valve
Structure: 2 Piece
Body: A216 WCB
Trim: ANSI 4140+ENP
Seat: Devlon V
Ends: RTJ
Bore: Full Bore(FB)
Size: 6 Inch
Pressure: Class 600
Standard: ASME
Feature: Piggable
Products Related to A216 WCB Ball Valve, Class 600