3 Piece Ball Valve, Forgd Steel, Full Port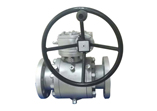 Trunnion Ball Valve, 3 Piece Body, Forgd Steel, Nace Trim, PEEK Seat, 6 Inch, ANSI 150, Full Port.
Contact Us: sales@reliavalve.com
Key Specifications / Features
3 piece ball valve consists of three separated pieces, with the connection between them being a bolt and flange assembly. The central body section may be removable without disturbing the end connections. Easy to repair.
Title: 3 Piece Trunnion Ball Valve
Type: Trunnion Ball Valves
Structure: 3 Piece Body
Function: DBB
Body: Forgd Steel
Trim: Nace Trim
Seat: PEEK
Design: API 607
Size: 6″
Class: ANSI 150
Ends: Flanged, RF
Port: Full Port
Fluid: Natural Gas
Products Related to 3 Piece Ball Valve, Forgd Steel, Full Port