20 Inch Ball Valve, 150LB, Carbon Steel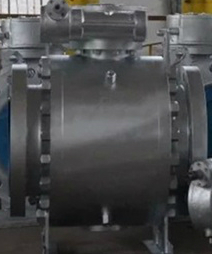 20 Inch Ball Valves, 150LB, RF, Carbon Steel, Full Bore, Ball: Solid Ball S.S., Bolted Bonnets.
Contact Us: sales@reliavalve.com
Key Specifications / Features
Size: 20 Inch
Pressure: 150LB
Body: Carbon Steel / Forging
Ball: Solid Ball S.S.
Stem: S.S.304L
Valves Shall Be Designed With Full Bore. Valve Design Shall Minimize Pressure Drop, Avoid Stagnant Areas And Erosion Effects.
All Flanged Valves Shall Have Flanges Integral With The Valve Body.
Bonnets Shall Be Bolted.
Products Related to 20 Inch Ball Valve, 150LB, Carbon Steel